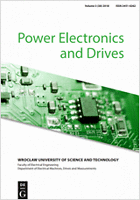 Power Electronics and Drives (PEAD) is an open access, peer-reviewed journal which aims to publish original scientific papers (research and survey papers) on new theoretical developments, novel applications, and case studies regarding advances in power electronics and electrical drive systems. Articles published in our journal cover full scope of power electronics and its applications in electrical drives, renewable energy systems and mechatronic systems. Power Electronics and Drives is now listed on the Ministry's list of scientific journals. From 2/12/2021, a paper in PEAD is evaluated with 20 points.
Editor-in-chief: Teresa Orlowska-Kowalska, Department of Electrical Machines, Drives and Measurements, Wroclaw University of Science and Technology, Wroclaw, Poland
NEWS.
October 2023:
The Power Electronics and Drives journal has been positively evaluated for inclusion in the Web of Sciences (Emerging Sources Citation Index - ESCI).
After the reviews received from Clarivate Analytics in July 2021, which did not accept the journal into this database, a two-year waiting period was required while the journal addressed the suggestions made by CA. Last year, in July 2022 a new application was submitted to Clarivate, and at least after 1.5 year the CA recognized the continued development of the journal and the Editors' reply. As a result, PEAD was accepted for inclusion in the WoS database. All articles, starting from 2021 (vol. 6) will be indexed in WoS soon. In June 2024 we expect the inaugural Impact Factor.
NEWS.
Special Sections in 2023:
Artificial Intelligent Based Designs and Applications for the Control of Electrical Drives in vol. 8/2023
Advanced Control Methods of Electrical Machines and Drives in vol. 8/2023
More information: http://www.ped.pwr.edu.pl/Special-Section,524.html